| | | |
| --- | --- | --- |
| | | |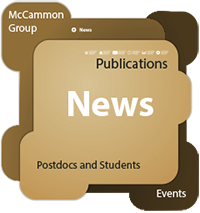 November 2020
Peter Sims, a former undergraduate researcher in our group, has been promoted to Associate Professor with tenure at Columbia University in the Department of Systems Biology and the Department of Biochemistry and Molecular Biophysics.
Shenggao Zhou, a former postdoc in Bo Li's group and ours, has accepted an Associate Professorship in Mathematics with tenure at Shanghai Jiao Tong University (SJTU).
Former postdoc Denis Bucher is now Head of Computational Chemistry at LeadXpro, Switzerland.
Christian Seitz, a graduate student in Rommie Amaro's group and ours, just published a paper in Biophysical Journal showing how the mobility of glycans attached to the neuraminidase on the surface of influenza viruses allows small molecule antiviral drugs to reach the enzyme and inactivate it. The findings may also extend to drugs targeting proteins on the SARS Cov-2 virus. A news feature on this work can be found here: https://ucsdnews.ucsd.edu
October 2020
Fiona Kearns, a new postdoc in Rommie Amaro's group and ours, won the Outstanding Dissertation Award as a chemistry Ph.D. student at the University of South Florida.
Clarisse Ricci, a postdoc in our group, will become a senior scientist at DE Shaw Research.
Septmber 2020
Burak Aksoylu, a former postdoc in Mike Holst's group and ours, has accepted an appointment as Associate Professor of Mathematics, Texas A&M University-San Antonio.
August 2020
Former graduate student John Mongan has been promoted to Associate Professor of Radiology at UCSF.
July 2020
Liangyue "Willa" Wang, who is starting her Chemistry Ph.D. studies in Mike Gilson's group, will be co-advised by Andy McCammon.
June 2020
Andy Mitchell, an undergraduate researcher in the group, will attend Stanford starting this fall for his PhD studies in chemistry.
Christian Seitz, a graduate student in Rommie Amaro's group and ours, passed his Candidacy Exam on May 27 and is now concentrating on finishing his PhD thesis work.
May 2020
Ben Jagger, a graduate student in our group and in Rommie Amaro's group, successfully defended his Ph.D. thesis on April 30th – congratulations!
A warm welcome to Marcus Hock, who is pursuing his PhD studies in Bioengineering. He is a new member of Andrew McCulloch's group and also of our group.
April 2020
Kalli Kappel, a former undergraduate researcher in our group, was selected for the prestigious 2020 Schmidt Science Fellowship. Kalli completed her PhD at Stanford and is now a postdoc in Aviv Regev's lab at the Broad Institute/MIT.
Kyra Wu, a high school student from Canyon Crest Academy who is doing research in the group, won First Place (Biochemistry) in the Greater San Diego Science and Engineering Fair. Kyra's project included studies to discover possible inhibitors of FabI, an enzyme needed for fatty acid biosynthesis in bacteria. The results may guide the discovery of new antibiotics. Her mentor in this project is our graduate student, Terra Sztain. For more information, see UC San Diego Physical Sciences.
March 2020
Fiona Kearns will join Rommie Amaro's group and ours as a new postdoc. Fiona has already published extensively, based on her undergraduate and PhD work at University of South Florida.
Andy McCammon will receive the 2020 Philip and Marjorie Newmark Award in Biochemistry.
February 2020
Clarisse Ricci, a postdoc in the group, is co-first author of a new article in the prestigious journal, eLife. The article reveals new molecular details about how circadian rhythms ("biological clocks") are regulated, opening the way to therapies for a variety of disorders.
Former postdoc Steffen Lindert has been awarded the prestigious 2020 Sloan Research Fellowship. Steffen is Assistant Professor of Chemistry at Ohio State University.
Former graduate student Kate (Rogers) Standish is now Regional Medical Scientific Director, Oncology, Merck Research Labs in San Diego.
Former postdoc Anthony Ivetac is now Principal Scientist at Mirati Therapeutics in San Diego.

January 2020

Applications of our Brownian dynamics code BrownDye in studies of Cardiac Thin-Filament Ca++ Regulation were highlighted in the New and Notable section of the Dec 17 issue of Biophysical Journal: https://cell.com
Former postdocs Steffen Lindert and Giulia Palermo have been selected as the two finalists recommended by the American Chemical Society Division of Physical Chemistry for the Kavli Foundation Emerging Leader in Chemistry Lecture at the next national ACS meeting. Steffen is Assistant Professor at The Ohio State University and Giulia is Assistant Professor at the University of California at Riverside.
Kyra Wu, a junior at Canyon Crest Academy High School, has started a research internship. She is working with Terra Sztain on the recognition of acyl carrier proteins by the enzymes they interact with.

December 2019

Terra Sztain, a graduate student in our group and Mike Burkart's, has received the Carol and George Lattimer Award for Graduate Excellence from UCSD's Division of Physical Sciences. This Award recognizes "interdisciplinary approaches to problem solving and a strong commitment to education."
Shengjun You, a third-year undergraduate at UCSD, has joined our group as a research intern.

November 2019

Sarah Kochanek, a graduate student in our group and in Rommie Amaro's group, successfully defended her Ph.D. thesis this month – congratulations!
Former graduate student Rob Swift has joined Relay Therapeutics, Inc., as Research Scientist. Relay is a new drug discovery company in Cambridge, Mass.
Former postdoc Sara (Nichols) Swift is now Research Scientist II, Vertex Pharmaceuticals, Boston.

October 2019

Ben Jagger, a graduate student in our group and in Rommie Amaro's group, has received the Teddy Traylor Award from the Department of Chemistry and Biochemistry.
Sarah Kochanek, a graduate student in our group and in Rommie Amaro's group, has accepted a position at Novartis in Emeryville, CA, to start in January 2020.
Chris Lee has won the 2019 Postdoc Appreciation Award at UCSD. Chris recently completed his PhD as a member of the Amaro and McCammon groups. He's currently a postdoc at UCSD, working with Padmini Rangamani and Mike Holst.
Former graduate student Dan Mermelstein has joined OpenEye Scientific Software, Inc., developing new tools for drug discovery.
Former postdoc David Zhang has accepted a position as Principal Scientist at Genomatica, San Diego.

September 2019

Former grad student Alisha Caliman has accepted a position as Scientist at AstraZeneca R&D Boston.
Former grad student William Sinko has accepted a position as Scientist at Modulus Discovery, Inc. in Boston.

August 2019

Terra Sztain, a graduate student in the Burkart and McCammon groups, has received the Bruno Zimm Award from the Department of Chemistry & Biochemistry. This award recognizes research excellence in the field of physical chemistry.
Andrew Gillette, a former postdoc in Mike Holst's group and ours, has been promoted to Associate Professor of Mathematics, University of Arizona.

July 2019

Yu-Ming Mindy Huang won the American Chemical Society's Wiley Computers in Chemistry Outstanding Postdoc Award. Mindy starts her physics faculty position at Wayne State University next month, and will present her award-winning work at the upcoming ACS national meeting in San Diego.
Former postdoc Barry Grant is being promoted to Associate Teaching Professor of Molecular Biology with tenure in the Division of Biological Sciences, UCSD.
Former postdoc Pete Kekenes-Huskey will move to the Cell & Molecular Physiology Department of Loyola University at Chicago as Associate Professor this summer.

June 2019

Chris Lee, a recent PhD graduate from the Amaro and McCammon groups, was selected as a Hartwell Foundation Postdoctoral Fellow. He'll pursue his postdoctoral studies mentored by Padmini Rangamani (UCSD Mechanical Engineering) and Michael Holst (UCSD Mathematics).
Terra Sztain, a graduate student in Mike Burkart's group and ours, passed her Candidacy Exam with flying colors, and now will focus on completing her thesis research. Congratulations, Terra!
Kalli Kappel, a former undergraduate researcher in our group, completed her PhD in Biophysics at Stanford and will start postdoctoral study in Aviv Regev's group at MIT.
Riccardo Baron, a former postdoc, is now Director of Data Science at Komodo Health Inc.

May 2019

Former postdoc Donald Hamelberg is now Chair of the Department of Chemistry at Georgia State University.
Former postdoc Jeff Wereszczynski is being promoted to Associate Professor of Physics with tenure at Illinois Institute of Technology.
Former postdoc Dong "Danny" Xu is being promoted to Associate Professor of Chemistry with tenure at the Idaho State University College of Pharmacy.
Graduate student Kimberly McCabe of Andrew McCulloch's group, co-advised in the McCammon group, successfully defended her PhD thesis. Kim's new position is Research Scientist at the Simula Research Laboratory in Norway.

April 2019

Current postdoc Yu-Ming Mindy Huang will be starting as Assistant Professor of Physics, tenure track, at Wayne State University this coming fall
Former graduate student Jessica Swanson has been appointed Assistant Professor of Chemistry, tenure track, at the University of Utah starting this coming fall
Former graduate student David Minh is being promoted to Associate Professor of Chemistry with tenure at Illinois Institute of Technology

March 2019

Mindy Huang's recent paper, "Brownian dynamic study of an enzyme metabolon in the TCA cycle: Substrate kinetics and channeling," has been selected by the Protein Society as one of the best papers in Protein Science in 2018.
Our recent paper on the APBS software is one of the top cited articles in recent publication history for Protein Science, with more than three dozen citations in its first weeks. See https://onlinelibrary.wiley.com/
Two of our recent papers in the Quarterly Reviews of Biophysics are among the most cited in that journal. These describe simulation studies of CRISPR-Cas9 and of a G-protein-coupled receptor. See https://www.cambridge.org

February 2019

Former graduate student Jessica Swanson is now Research Associate Professor, Chemistry, University of Chicago.
Former graduate student Sylvia Tara is now the Chief Executive Officer of Santara Therapeutics Biotechnology

January 2019

An important paper in the January 1 issue of Science Signaling describes collaborative work by Alexandra Newton's group at UCSD, scientists in Japan, and our group. A news release about this work can be found at http://ucsdhealthsciences.tumblr.com/
Dr. Jianwei "John" Che, a Visiting Scholar in our group, will be starting his own group at the Dana-Farber Cancer Institute in Boston in February.

December 2018

Former postdoc Joe Dzubiella, now Professor of Physics at the University of Freiburg, will be here for a mini-sabbatical during February and March 2019
The group's work on drug discovery for heart disease is featured in the Annual Report of the Coalition for Academic Scientific Computation, which includes all major universities with high-performance computing programs: https://cdn.ymaws.com/ This work, led by former postdoc Yinglong Miao (now on the faculty of the University of Kansas), is described on page 8. Also, work by former graduate student Jacob Durrant (now on the faculty of the University of Pittsburgh) is described on page 9.

November 2018

Our collaborative study with Julian Schroeder's group at UCSD just appeared in the Proceedings of the National Academy of Sciences: http://www.pnas.org In this work, molecular dynamics simulations suggested which parts of the SLAC1 anion channel might serve as carbon dioxide sensors in plants, and the results were confirmed experimentally. The work is significant in view of the rising level of carbon dioxide in the atmosphere. This is also Julian's inaugural paper as a new member of the NAS.
Congratulations to Ben Jagger, a current grad student in the Amaro and McCammon groups, on being awarded the Distinguished Graduate Student Fellowship by our Department of Chemistry and Biochemistry! This award recognizes academic and research excellence.
Morgan Lawrenz, a former graduate student in our group, is now Associate Principal Scientist at Schrodinger, Inc., in San Diego.
Zara Perumal, a high school researcher in our group in 2012, has completed her B.S. and M.S. degrees in computer science at MIT, and is now a Software Engineer at Google in Cambridge, MA.

October 2018

Surl-Hee (Shirley) Ahn has arrived to start her postdoctoral work in our group and Rommie Amaro's. Shirley received her Ph.D. in Chemistry at Stanford.

September 2018

Former postdoc Yi Wang has been awarded tenure and promoted to Associate Professor of Physics at The Chinese University of Hong Kong.
We welcome two sabbatical visitors this month, Professor Joanna Trylska (University of Warsaw) and Professor Mazen Hamed (Birzeit University).

August 2018

Former postdoc Chia-en Chang has been promoted to Full Professor of Chemistry and Bioinformatics at the University of California at Riverside. Her new appointment was effective July 1, 2018.
Former postdoc Giulia Palermo, a new Assistant Professor of Chemistry at UC Riverside, has been selected by the Editors of the Journal of the American Chemical Society as one of their top young investigators/authors. See https://pubs.acs.org/

July 2018

Recent postdoctoral fellow Giulia Palermo, who just starting as Assistant Professor of Bioengineering at UC Riverside, is one of eight scientists appointed to the new Early Career Board of the American Chemical Society's Journal of Chemical Information and Modeling.
Former graduate student Alex Perryman will start as Senior Scientist II at Repare Therapeutics in Montreal next month.
Jianing Wang, a UCSD undergraduate in UCSD's Biology/Bioinformatics program, is joining our group as a research assistant.
Former undergraduate researcher Yibei Jiang graduated from UCSD's Biology/Bioinformatics program. She's currently a scientist at the biotech startup Junodox, and planning to pursue a PhD in Bioinformatics.

June 2018

Wen Ma will join our group and Rommie Amaro's as a postdoc this summer. Wen completed his Ph.D. in 2017 in Biophysics and Computational Biology at the University of Urbana-Champaign, where he was advised by Klaus Schulten and Zan Luthey-Schulten. He has continued as a postdoc with Zan since he graduated.
Guan-yi "Kyle" Li, a first-year undergraduate at UCSD, is joining our group as a research intern.
A newly published paper from the group has been recognized with the Editor's Choice selection. First author Aishwarya Venkatramani is an undergraduate in our group, advised by Dr. Clarisse Ricci; Aishwarya starts her graduate studies at Stanford in the fall. The article relates to discovery of new drugs for malaria, and can be found at https://doi.org/
Ramces Gonzalez, an undergrad at UC Merced who worked in our group during summer 2017, will start graduate study in Electrical and Computer Engineering at UC Davis in fall 2018.
Former postdoc Denis Bucher has joined the Swiss company leadXpro as a computational scientist.

May 2018

Current postdoc Giulia Palermo has accepted an Assistant Professorship of Bioengineering at the University of California at Riverside. She will start there in July 2018.
Current undergraduate researcher Aishwarya Venkatramani will start her graduate studies at Stanford this fall. She will be in the PhD program of the Bioengineering Department.
Surl-Hee (Shirley) Ahn will join our group and Rommie Amaro's as a postdoc this fall. Shirley is completing her Ph.D. in Chemistry at Stanford.
Patent Number US 9,951,097 "Antibacterial Compounds Targeting Isoprenoid Biosynthesis" was awarded on April 24, 2018. Andy and former group members Steffen Lindert (now Asst. Prof. at Ohio State Univ.) and Bill Sinko (now Senior Scientist at Schrodinger Inc. in Boston) are co-authors, along with members of Eric Oldfield's group at UIUC.
The Broad Institute of MIT and Harvard has published an interview with Alisha Caliman, a recent PhD from our group. See https://www.broadinstitute.org/
Rachel Kretsch, a former undergrad research visitor from Harvey Mudd College, will pursue an MA in Science and Security at Kings College London before starting in the Ph.D. program in Biophysics at Stanford in 2019.

April 2018

Current graduate student Dan Mermelstein successfully defended his PhD thesis this month. Dan has also been named a Vertex Fellow. He will take up this prestigious position at Vertex Pharmaceuticals in San Diego in September. More information about the Vertex Fellows program can be found at https://vrtx.com
Current graduate students Christian Seitz (jointly mentored by Rommie Amaro) and Terra Sztain (jointly mentored by Mike Burkart) have both been awarded Graduate Research Fellowships from the National Science Foundation. Congratulations to all!

March 2018

Our former postdoc Joanna Trylska, now a professor at the University of Warsaw, has received a prestigious Fulbright Senior Award for a sabbatical in our group during November 2018 – August 2019.
New in Proc. Natl. Acad. Sci. USA: Advanced simulation methods reveal how a G-protein-coupled receptor conveys signals from the outside of a cell into the cellular interior. See the news item at http://ucsdnews.ucsd.edu

February 2018

Former postdoc Joe Dzubiella has accepted a Full Professorship in Physics at the University of Freiburg, starting April 1.
Former postdoc Jeremy Kua is now Full Professor of Chemistry and Biochemistry, University of San Diego.
Former postdoc Jung-Hsin Lin is now Full Professor in the School of Pharmacy, National Taiwan University. He is also Full Research Fellow in Academia Sinica.

January 2018

A warm welcome to Professor Maria Kurnikova (Carnegie-Mellon University, Department of Chemistry), who has joined us for her sabbatical leave. She will be here for much of 2018.

December 2017

Aishwarya "Aishu" Venkatramani has won the 2017-18 UCSD Physical Sciences Dean's Undergraduate Award for Excellence.
Sophia Hirakis and Chris Lee, both co-mentored with Rommie Amaro, have been awarded 2018 Distinguished Graduate Student Fellowships by the UCSD Department of Chemistry and Biochemistry.
Former graduate student Mikolai Fajer has joined Schrodinger, Inc., as a Senior Scientist in NYC.

November 2017

Postdoctoral scholar Giulia Palermo has been selected as one of the four speakers in the prestigious Future of Biophysics Symposium at the 62nd Biophysical Society Meeting in San Francisco in February 2018: https://www.biophysics.org
Clarisse Ricci's art appeared on the cover of JACS (15 November 2017) – the issue containing the article by Giulia Palermo, et al., on allostery in CRISPR-Cas9: http://pubs.acs.org/
The work on CRISPR-Cas9 by Giulia Palermo and collaborators has been recognized with the HPCwire Editors' Award for Best Use of High Performance Computing (HPC) Application in Life Sciences: https://www.hpcwire.com/

October 2017

Andy has been named the recipient of the 2017 Russell M. Pitzer Award in Theoretical Chemistry, given by Ohio State University. His award lecture will be given on November 13, 2017.
Our recent PhD graduate Alisha Caliman has received the Roland Robbins Outstanding Thesis Award for the best UCSD Pharmacology thesis in the 2016/2017 academic year. One of our previous PhD recipients, Jacob Durrant, received this award in 2010. The award was endowed by Dr. Robins, a distinguished chemist and inventor of the antiviral drug ribavirin. Alisha is now a Computational Biologist at the Broad Institute in Cambridge and Jacob is now Assistant Professor of Biological Sciences at the University of Pittsburgh.
Former postdoc Joanna Trylska, now at the University of Warsaw, has been awarded the title of Full Professor in Physics, as approved by the President of Poland.
Former graduate student Mikolai Fajer is joining Schrodinger, Inc., as a Senior Scientist in NYC. He will contribute to their work on enhanced sampling methods for free energy calculations.

September 2017

Former postdoc Donald Hamelberg has been promoted to Full Professor of Chemistry at Georgia State University.
Former graduate student Nuo Wang is now a Data Scientist with BlackRock, Inc.
Former graduate student John Mongan, now a faculty member at UCSF, is featured in this National Public Radio segment about artificial intelligence and radiology

August 2017

Alisha Caliman, who recently completed her Ph.D. in our group, has accepted a position as Computational Scientist at The Broad Institute of MIT and Harvard.
Varnavas Mouchlis, a senior postdoc with Ed Dennis who collaborates with our group in computational studies, received the Hans Neurath Outstanding Promise Travel Award from the Protein Society. More information about this prestigious award can be found at: http://www.proteinsociety.org/.

July 2017

News release about our new CRISPR-Cas9 paper in the Proceedings of the National Academy of Sciences: http://www.sdsc.edu

June 2017

Andy has been appointed to the Editorial Board of the Proceedings of the National Academy of Sciences USA.

May 2017

Congratulations to Alisha Caliman, who successfully defended her Ph.D. on May 8!
Current postdoc Yinglong Miao has accepted an Assistant Professorship in the Department of Molecular Biosciences and the Center for Computational Biology at the University of Kansas.
Former postdoc Xiaolin Cheng has accepted an Associate Professorship in the College of Pharmacy at Ohio State University, and will start there in August 2017.
Varnavas Mouchlis, a postdoc in Ed Dennis's group who works closely with our group, received the Wiley Computers in Chemistry Outstanding Postdoc Award for his presentation "Phospholipases A2: A Pharmaceutical Target to Diminish Inflammation" at the Spring 2017 American Chemical Society Meeting in San Francisco.

April 2017

Former postdoc Jim Briggs has been promoted to Professor of Biology and Biochemistry, and NSM Associate Dean for Faculty Affairs at the University of Houston
Former postdoc Sanjib Senapati, Professor of Biotechnology, IIT Madras, recently received the National Bioscience Award for Career Development.
A warm welcome to Terra Sztain, who will pursue her PhD studies jointly in our group and Michael Burkart's group.
A warm welcome to Christian Seitz, who will pursue his PhD studies jointly in our group and Rommie Amaro's group.
Congratulations to Chris Lee, who was awarded by the American Chemical Society's Division of Chemical Information for his presentation at the national ACS meeting in San Francisco.

March 2017

Chris Lee, a graduate student in Rommie Amaro's group and ours, received the 2017 Bruno Zimm Award from UCSD's Department of Chemistry and Biochemistry. This award recognizes research excellence in the field of biophysical chemistry. Bruno Zimm was one of the founding members of UCSD's chemistry department, and was a much loved honorary member of the McCammon group at UCSD.
Giulia Palermo won first prize in the art contest at the Biophysical Society's 2017 annual meeting. Her digitally modified painting of the group II intron ribozyme was a collaboration with her sister Amelia Palermo and Lorenzo Casalino.
Ben Jagger and Sarah Kochanek, graduate students in Rommie Amaro's group and ours, passed their Departmental Second-year Exams with flying colors!

January 2017

Yinglong Miao has been awarded a three-year Scientist Development Grant by the American Heart Association. It will support his project, "Structure-based design of allosteric enhancers of the Adenosine A1 receptor", in which he will collaborate with the experimental group led by Arthur Christopoulos at Monash University in Australia.
Our undergraduate researcher Aishu Venkatramani has received a scholarship from UCSD's Frontiers of Innovation Scholars Program. This program fosters interdisciplinary research at UCSD.
Former graduate student Nathan Baker is now Director of the Advanced Computing, Mathematics, and Data Division at Pacific Northwest National Laboratory.

December 2016

Chris Lee, a graduate student in Rommie Amaro's group and ours, received the Carol & George Lattimer Award for Graduate Excellence from UCSD's Division of Physical Sciences. This Award recognizes "interdisciplinary approaches to problem solving and a strong commitment to education."
Rommie Amaro has received the 2016 Corwin Hansch Award. This award is given by the Hansch-Fujita Foundation each year to a scholar under the age of 40 for significant contributions to the field of computer-aided drug design. Two previous postdocs from our group have received this award, Heather A. Carlson (Professor, University of Michigan) in 2008, and Rebecca Wade (Professor, Heidelberg University) in 2004.
The Proceedings of the National Academy of Sciences will recognize one of our articles in a special feature commemorating the 20th anniversary of PNAS online. The article, "Electrostatics of nanosystems: applications to microtubules and the ribosome," by Nathan Baker, David Sept, Simpson Joseph, Michael Holst, and Andrew McCammon [PNAS 98, 10037-10041 (2001)], is one of the most highly cited PNAS papers from the past 20 years. This paper, which introduced the APBS software based on new methods for solving the Poisson-Boltzmann equation for large molecular systems, has received more than 3,400 citations by the end of 2016.

November 2016

Dan Mermelstein, a graduate student in Ross Walker's group and ours, passed his Ph.D. Candidacy Exam with flying colors. Congratulations, Dan!
Former postdoc Sanjib Senapati, now Professor of Biotechnology at IIT Madras, has been awarded a Fulbright Fellowship for sabbatical study in the US.

October 2016

Former postdoc Sara (Nichols) Swift is now Research Scientist II, Vertex Pharmaceuticals.
Former Cambridge University graduate student visitor Suryani Lukman is now Assistant Professor of Chemistry, Department of Applied Mathematics and Sciences, Khalifa University, Abu Dhabi.

September 2016

MD studies shed light on the mechanism of the gene-editing CRISPR-Cas9 system. Read the press release about our new paper in ACS Central Science: The article can be found at http://pubs.acs.org/
New MD methods open the way to discovery of new drug leads for heart disease. Read the press release about our new paper in Proc Natl Acad Sci USA: http://ucsdnews.ucsd.edu
Zhongming Wang, a former postdoc in our group and Bo Li's group, has been awarded tenure and promoted to Associate Professor of Mathematics at Florida International University.
The McCammon Festschrift issue of the Journal of Physical Chemistry has been published: http://pubs.acs.org/toc/jpcbfk/120/33 Sincere thanks to the organizers and contributors!
Andy is the recipient of the 2016-17 Joseph O. Hirschfelder Prize in Theoretical Chemistry, from the Theoretical Chemistry Institute at the University of Wisconsin Madison. More information can be found here: https://www.chem.wisc.edu

August 2016

Former graduate student Levi Pierce has joined Relay Therapeutics, Inc., as Senior Scientist. Relay is a new drug discovery company in Cambridge, Mass.

July 2016

Former postdoc Rebecca Wade is now the Scientific Director of the Heidelberg Institute for Theoretical Studies.
Former graduate student Aaron Friedman is now Healthcare/Life Sciences Partner Solutions Architect, Amazon Web Services.
Former postdoc Rommie Amaro has been awarded early promotion to Full Professor of Chemistry & Biochemistry at UCSD!
Former graduate student Jacob Durrant has accepted the position of Assistant Professor of Biological Sciences at the University of Pittsburgh. He starts there in the fall semester, 2016.
Former postdoc Cesar Oliveira has accepted a Principal Scientist position with Schrodinger, Inc. He will be based in San Diego.

June 2016

Chris Lee, a graduate student in Rommie Amaro's group and ours, passed his Candidacy Exam with flying colors. Congratulations, Chris!
Kim McCabe, a graduate student in Andrew McCulloch's group and ours, was appointed to the prestigious Gordon Scholars Program in our Jacobs School of Engineering.
John Moody joins the group as a postdoc, starting 1 July. John received his PhD in mathematics at UCSD, working with Mike Holst.
Former undergrad researcher Michelle Zhou completed her M.D. at UC Irvine and has started her medical residency at residency at Harbor-UCLA Hospital.

May 2016

Congratulations to graduate student Alisha Caliman, who has been awarded the prestigious UC President's Dissertation Year Fellowship!
Former graduate student Nuo Wang has accepted a postdoctoral position in Zhen-Gang Wang's Chemical Engineering Group at Caltech.
Former graduate student Olivia Kim Pierce has accepted a position as Scientist at Schrodinger, Inc., in Cambridge MA.
A warm welcome to Rachel Kretsch, an undergraduate at Harvey Mudd College, who is doing research in the group this summer.

April 2016

Former graduate student Jacob Durrant, currently a postdoc with Rommie Amaro at UCSD, has been offered an Assistant Professorship at the University of Pittsburgh.
Former postdoc Changsun Eun has started an Assistant Professorship in Chemistry at Hankuk University of Foreign Studies in Korea.

March 2016

Hui Sun, a joint postdoc in our group and Bo Li's group in math, has accepted an assistant professorships at Cal State Univ, Long Beach.
Kim McCabe, a joint graduate student in our group and Andrew McCulloch's group in bioengineering, has been awarded a Fellowship in the Frontiers of Innovation Scholars Program. This program is designed to foster cross-disciplinary research at UCSD.

January 2016

Graduate student Dan Mermelstein won the NVIDIA GPU Graduate Award of the American Chemical Society, and will present his award lecture at the national ACS meeting in San Diego in March.
Read UCSD School of Medicine's highlight of our work on antibiotic discovery, published at the end of 2015 in Proc. Natl. Acad. Sci. USA: http://ucsdhealthsciences.tumblr.com/

December 2015

Giulia Palermo has been awarded a prestigious Advanced Postdoctoral Fellowship from the Swiss National Science Foundation, and will begin her work here in February 2016. More information on these awards can be found at http://www.snf.ch/
A warm welcome to Ben Jagger, who is pursuing his PhD studies in Chemistry jointly in our group and Rommie Amaro's group.
Former postdoc Jeff Wereszynski, who is now Assistant Professor of Physics at Illinois Institute of Technology, has been awarded a prestigious CAREER Award from the National Science Foundation.
New work that includes computer-aided discovery of new antibiotic leads has been highlighted in the Proceedings of the National Academy of Sciences, http://www.pnas.org/ The full article, "Antiinfectives targeting enzymes and the proton motive force" can be found at http://www.pnas.org/. Our former postdoc Steffen Lindert led the computational part of this work, which included collaborative experimental work by groups at UIUC. Steffen is now Assistant Professor of Chemistry at The Ohio State University.

November 2015

A warm welcome to Kimberly McCabe, who is pursuing her PhD studies in Bioengineering jointly in our group and Andrew McCulloch's group.

October 2015

Congratulations to Olivia Kim Pierce, who has been recognized by UCSD's Martin D. Kamen Prize! This award is given annually for the best Ph.D. thesis in the area of biochemistry by UCSD's Divisions of Biological and Physical Sciences. Martin Kamen was a distinguished faculty member at UCSD, who co-discovered carbon-14 and developed its applications in biochemistry. Previous winners have included our graduate student Nathan Baker, who achieved early tenure at Washington University in St. Louis before becoming a Chief Scientist at the Pacific Northwest National Laboratory.
Congratulations to Nuo Wang on her successful Ph.D. defense!

September 2015

Tongye Shen, who completed his physics PhD in our group in 2002, has been awarded tenure and promoted to Associate Professor of Biochemistry, University of Tennessee, Knoxville.
Olivia Kim Pierce, who completed her PhD here last April, will start a postdoctoral position with Matt Jacobson at UCSF this fall.
A warm welcome to Sasha Heyneman, who will pursue her PhD studies jointly in our group and Rommie Amaro's group.
Peter Ung, who did undergraduate research in our group (winning UCSD's J.E. Mayer Award for Undergraduate Research in 2006), received his PhD in medicinal chemistry at the University of Michigan (in former postdoc Heather Carlson's group), and is now a postdoc in the Department of Pharmacology and Systems Therapeutics, Icahn School of Medicine at Mount Sinai, New York City.

August 2015

We welcome Aishwarya Venkatramani as a new undergraduate research student. Aishu starts her freshman year at UCSD in the fall of 2015.
Former graduate student Paul de Bakker, who was a faculty member at Harvard Medical School during 2007-2012, and Professor of Genetic Epidemiology and Bioinformatics at the University of Utrecht since 2012, will become Senior Director of Computational Genomics at Vertex Pharmaceuticals.
Former graduate student Morgan Lawrenz is joining Nurix, Inc. as a computational chemist. Nurix is a new pharmaceutical company in San Francisco; they are pursuing the discovery of drugs that work by modulating the protein regulation machinery.
Former postdoc Haihong Ni is now Director of Computational Chemistry at BioDuro, a major drug discovery research organization in China

July 2015

A warm welcome to first-year graduate student Sarah Kochanek, who will pursue her PhD studies jointly in our group and Rommie Amaro's group.
Former postdoc Sanjib Senapati has been promoted to Full Professor at the Indian Institute of Technology Madras.
Yongcheng Zhou, a former postdoc jointly with Mike Holst, has been awarded tenure and promoted to Associate Professor of Mathematics at Colorado State University.
Zuojun Guo, a former postdoc jointly with Bo Li and John Che, has been appointed as Research Scientist, Plexxikon, Inc., Berkeley CA.

June 2015

Rohith Mohan has been awarded a SDSC-UC Graduate Fellowship for summer 2015. Rohith is a Ph.D. student in former postdoc Dimitri Morikis's group at UC Riverside. The fellowship will allow him to work with our group and SDSD on advanced molecular simulations related to the immunological complement system.
Former graduate student Bill Sinko has accepted a position with Schrodinger Inc. as Project Applications Scientist in their Cambridge MA office.
Former postdoc Ferran Feixas has been awarded a prestigious Marie Curie Fellowship for advanced study. He is currently at the Institut de Química Computacional i Catàlisi (IQCC). University of Girona (Spain).

May 2015

Congratulations to Joe Kaus and Olivia Kim on their successful Ph.D. defenses!
Former postdoc Ivaylo Ivanov has been awarded tenure and promotion to Associate Professor of Chemistry at Georgia State University.
Former undergraduate summer research visitor Isaac Tian has completed his studies at Berkeley and will start PhD studies in computer science and engineering at the University of Washington.

April 2015

Our postdoc Steffen Lindert has accepted an Assistant Professorship in Chemistry and Biochemistry at The Ohio State University.
Shenggao Zhou, a joint postdoc in our group and Bo Li's group, has accepted an Associate Professorship in Mathematics at Soochow University.

February 2015

Welcome to two new postdocs!
Clarisse Ricci joined us in late January from the University of Campinas, Brazil. Yu-ming Mindy Huang joins us this month from our former postdoc Chia-en Chang's group at UC Riverside.
Former postdoc Joe Dzubiella, now Professor of Physics in the Helmholtz Center in Berlin, will join our group for a sabbatical during April-June 2015. More information about Joe's work is at: Helmholtz-Zentrum Berlin - Soft Matter Theory Group
Former postdoc Changsun Eun has been appointed as Research Scientist at LG Chem, the largest chemical company in South Korea.
Our new paper [Lindert, S., M.X. Li, B. Sykes, J.A. McCammon. Computer-aided drug discovery approach finds calcium sensitizer of the cardiac troponin complex. Chem Biol Drug Des 85, 99–106 (2015)] is featured as an "Editor's Choice" in the journal.

January 2015

Andy McCammon has been appointed to the Editorial Advisory Board of the Journal of Chemical Physics.
Former postdoc Adam Van Wynsberghe has been awarded tenure and promoted to Associate Professor of Chemistry at Hamilton College.

December 2014

Jacob Durrant's 2011 article "Molecular dynamics simulations and drug discovery" is by far the most viewed article of all time in BMC Biology. It continues to be the most viewed article in the last year and the last 30 days.
A warm welcome to first-year graduate student Daniel Mermelstein, who will pursue his PhD studies jointly in our group and Ross Walker's group. Daniel was an undergraduate at Hamilton College, where he did research with our former postdoc, Adam Van Wynsberghe.
Dahlia Goldfeld has completed her postdoctoral study in our group and is joining the Rand Corporation as a research scientist in 2015.
Former postdoc Jeffry Madura has been appointed to the Lambert F. Minucci Endowed Chair in Engineering and Computational Sciences at Duquesne University.
Former graduate student Levi Pierce is now a Bioinformatics Engineer at Human Longevity, Inc., in La Jolla.
Former graduate student visitor Jesper Soerensen is now a Research Scientist at Dart Neurosciences.

October 2014

Former postdoc Alemayehu "Alex" Gorfe has been awarded early tenure and promoted to Associate Professor at the University of Texas Medical School at Houston.
Former postdoc Dave Sept has been promoted to Full Professor of Biomedical Engineering at the University of Michigan at Ann Arbor.

August 2014

Former postdoc Jeremy Kua will be returning to University of San Diego as Chair of the Department of Chemistry & Biochemistry, following a year in Singapore helping to establish a new liberal arts college, the Yale-NUS College.

July 2014

Patrick Blachly and Vince Metzger both successfully defended their Chemistry PhD theses this month - congratulations!!
Alisha Caliman passed her PhD Candidacy Exam and is now beginning to complete her PhD research.
Former postdoc Jung-Hsin Lin has been promoted to Full Research Fellow and awarded tenure at Academia Sinica in Taiwan. He is also a professor at National Taiwan University.

June 2014

Congratulations to former postdoc Chia-en Chang! She has just been awarded tenure and promoted to Associate Professor of Chemistry at UC Riverside.
Congratulations to Olivia Kim, who passed her PhD Candidacy Exam and is now beginning to complete her PhD research.
Christopher Lee is a new graduate student in our group, working jointly with Rommie Amaro's group.
Former graduate student Morgan Lawrenz is completing her NIH postdoc at Stanford, and will start as a Research Scientist at Amgen in Thousand Oaks, CA, in September.

May 2014

Congratulations to Joe Kaus, who passed his PhD Candidacy Exam and is now beginning to complete his PhD research.
Mehrnoosh Arrar, who recently completed her PhD in our group, has been awarded a NSF Postdoctoral Research Fellowship in Biology. She is continuing her studies at the University of Buenos Aires.
Suryani Lukman, who did research in our group during her PhD studies at Cambridge University, has accepted an Assistant Professorship in Biomedical Engineering at Khalifa University, Abu Dhabi.

April 2014

Current undergraduate researcher Kalli Kappel has been awarded an NSF Graduate Fellowship.
Our article "Phase-field approach to implicit solvation of biomolecules wuth Coulomb-field approximation," Y Zhao, Y-Y Kwan, J Che, B Li and JA McCammon J.Chem. Phys. 139, 024111 (2013), has been selected by the editiors of JCP as one of the top articles in the area of THEORETICAL METHODS AND ALGORITHMS for 2013. See the link at http://aip-info.org/1ZJX-2BANA-FIJZ3D-ZQD7P-1/c.aspx
Former graduate student Kate Rogers has accepted a position with Eli Lilly Pharmaceuticals.
Former postdoc Leo Boechi is now Assistant Professor of Mathematics, University of Buenos Aires.
Former postdoc Jim Briggs is now Chair of the Department of Biology and Biochemistry, University of Houston.

March 2014

Dahlia Goldfeld has been awarded a highly prestigious three-year postdoctoral fellowship from the A.P. Giannini Foundation. A.P. Giannini was the founder of the Bank of America.
Former postdoc Rommie Amaro has been awarded early promotion and tenure in UCSD's Chemistry and Biochemistry department.
Yanxiang Zhao, a current postdoctoral fellow in our group and Bo Li's group at UCSD, has accepted an Assistant Professorship in Mathematics at George Washington University.
Pete Kekenes-Huskey, a current postdoctoral fellow in our group, has accepted an Assistant Professorship in Chemistry at the University of Kentucky.
Former postdoc Ryosuke Ishizuka has accepted an Assistant Professorship in Chemical Engineering at the University of Osaka.
Recent PhD recipient Aaron Friedman is now a Bioinformatics Scientist with Human Longevity, Inc., founded very recently in La Jolla by Craig Venter and colleagues.
C&E News Feature on the Nature article describing our Fatty Acid Synthase/Acyl Carrier Protein work: More Info
NBCR News Feature on Steffen Lindert and Denis Bucher's aMD-AMOEBA publication

January 2014

Congratulations to Kalli Kappel, a UCSD senior doing research in our group, upon her receipt of the Selma and Robert Silagi Award for Undergraduate Excellence. This Award honors the top graduating undergraduate in the Divisions of Physical and Biological Sciences at UCSD. More information at UCSD's Physics Page
Congratulations to Aaron Friedman, who successfully defended his PhD in Biomedical Sciences in November. Aaron subsequently accepted a computational biology position at HLI, a new biotech startup in San Diego.
Richard Law is now Vice President of Evotech, a European company that provides drug discovery resources (Evotech Website).

November 2013

Congratulations to four former graduate students on their new positions and awards!
John Mongan will start as Assistant Professor of Radiology at UCSF in August, 2014.
Bill Sinko starts as a full-time Research Scientist at Dart Neurosciences this month.
Morgan Lawrenz has been awarded her own NIH postdoctoral fellowship - she is currently in Vijay Pande's group at Stanford.
Paul Gasper has accepted a postdoctoral position at the University of Albany RNA Institute.
Congratulations to former postdoc Chia-en Chang, who has been awarded an NSF Career Award! Chia-en is Assistant Professor of Chemistry at the University of California at Riverside.

October 2013

Congratulations to Patti Craft, who has been promoted to Administrator Coordinator, a new high-level position within the Howard Hughes Medical Institute.
Congratulations to graduate student Alisha Caliman, the Fall 2013 winner of the Peter Kollman Graduate Award in High Performance Computing, given by the ACS COMP Division in conjunction with the National Institute for Computational Sciences (NICS).
Congratulations to postdoc Denis Bucher, who has accepted a Research Scientist position in Paris, France with Galapagos NV, a major pharmaceutical company based in Europe. Denis starts his new position in December, 2013.
A warm welcome to Ole Andersen, a graduate student at Aarhus University, Denmark, who is a visiting scientist in our group starting October, 2013, for about six months.

August 2013

Former postdoc Dimitri Moikis, who is now Professor of Bioengineering at UC Riverside, has received the Carolyn K. McGillvray Memorial Award for Macular Degeneration Research. More Information.
We welcome Professor Kyou-Hoon "Q" Han, President of the Korean Protein Society, who is here for his sabbatical, August 2013 – February 2014. Professor Han has appointments in the Department of Bioinformatics, University of Science and Technology, and as Senior Investigator, Biomedical Translational Research Center, Korea Research Institute of Bioscience and Biotechnology.

July 2013

Former postdoc Adrian Elcock is now Professor of Biochemistry at the University of Iowa.
Former postdoc Kay Hamacher is now Professor of Biology, Computer Science, and Physics, Technical University of Darmstadt.
Former postdoc Ben Zhou Lu is now Professor, Institute of Computational Mathematics, Chinese Academy of Sciences, Beijing
Former postdoc Tjerk Straatsma is now the Head of Scientific Computing at Oak Ridge National Laboratory: https://www.olcf.ornl.gov/2013/06/06/olcf-announces-new-head-of-scientific-computing/
Congratulations to Paul Gasper, who completed his PhD in chemistry & biochemistry in July, 2013!
Congratulations to Nuo Wang, who passed her Candidacy Exam, and is now beginning to complete her PhD research.
Congratulations to graduate student Joe Kaus, who has been awarded a prestigious scholarship from the Achievement Rewards for College Scientists (ARCS).

June 2013

Former graduate student David Minh has accepted an Assistant Professorship in Chemistry at the Illinois Institute of Technology (IIT).
Current postdoc Jeff Wereszczynski, who will soon start an Assistant Professorship in Physics – also at IIT – has been awarded an NIH startup grant.
Former postdoc Yingkai Zhang has been promoted to Full Professor of Chemistry at New York University.
Former postdoc Haluk Resat has accepted an Associate Professorship in Chemical and Bioengineering at Washington State University.
Graduate student Mehrnoosh Arrar has received a supplement award to her NSF Predoctoral Fellowship for a summer visit to the University of Stockholm. She will use new molecular simulation methods in the study of ion channels, in the lab of Erik Lindahl.

May 2013

Former postdoc Donald Hamelberg has received early tenure and promotion to Associate Professor of Chemistry at Georgia State University.
Postdoc Jeff Wereszczynski has accepted an Assistant Professorship in Physics at the Illinois Institute of Technology, in Chicago.
Postdoc Andrew Gillette (joint with Mike Holst's group) has accepted an Assistant Professorship in Mathematics at the University of Arizona.
Postdoc Cesar Oliveira has accepted a Research Scientist position at Pfizer in Groton, CT.

January 2013

NIH news story about our computer-aided drug discovery work aimed at new antibiotics for deadly strains of Staph aureus

December 2012

Congratulations to Patricia Bauler, who completed her PhD in physical chemistry in December, 2012!
Levi Pierce, who completed his PhD in physical chemistry in June, has joined Schrodinger, Inc., where he will continue to develop new software tools for computational chemistry.

October 2012

Former graduate student Paul de Bakker, who was a faculty member at Harvard Medical School during 2007-2012, has been appointed Professor of Genetic Epidemiology and Bioinformatics at the University of Utrecht in the Netherlands.

August 2012

Congratulations to Kate Rogers and Pat Blachly, who both received prestigious scholarships from the Achievement Rewards for College Scientists (ARCS)!
Levi Pierce won the best poster award at the Summer Institute of the National Biomedical Computing Resource.
Former postdoc Jeremy Kua is one of the founding faculty members of the Yale-NUS College, a new educational collaboration between Yale University and the National University of Singapore. More information on this venture is at http://www.yale-nus.edu.sg/
UCSD's news story on our breakthrough publication shows how millisecond timescale sampling of protein conformations can be achieved by implementing accelerated Molecular Dynamics on Graphics Processing Units.

June 2012

Former postdoc Jeremy Kua, who was recently promoted to Associate Professor at the University of San Diego, has received the Henry Dreyfus Teacher-Scholar Award.
Levi Pierce and Bill Sinko successfully defended their PhD theses, in physical chemistry and biomedical sciences, respectively.
Pat Blachly and Vince Metzger passed their Candidacy Exams in physical chemistry and biochemistry, respectively, and are now moving into the final stretch in their Ph.D. research.
Kalli Kappel won the prize for best biochemistry poster at the sixth annual undergraduate research symposium in UCSD's Department of Chemistry and Biochemistry.
A warm welcome to summer undergraduate visitors Carlos Hernandez (Columbia Univ., math) and Rigney Turnham (New Mexico State Univ., biochem)!
Kate Rogers Passed her Candidacy Exam in Biomedical Sciences, and is well on her way to completing her PhD work.
Steffen Lindert has been awarded a two-year Postdoctoral Fellowship by the American Heart Association. Steffen's research involves molecular and subcellular simulations of cardiomyocyte activity.

May 2012

Congratulations to our postdoc Yi Wang, who has accepted an Assistant Professorship in Physics at the Chinese University of Hong Kong.
Congratulations to former postdoc Kay Hamacher, who has been awarded tenure as a Professor in the Technical University at Darmstadt (http://www.kay-hamacher.de).
Kalli Kappel, one of our undergraduate researchers, has won a summer research scholarship at Columbia University.

April 2012

Laura Sagle, who received her Ph.D. in Chemistry in 2005, has accepted a position as Assistant Professor of Chemistry, University of Cincinnati.
Suryani Lukman, who worked in our group during 2009, completed her Ph.D. in Chemistry at Cambridge University in 2011. She is now a postdoc in the Bioinformatics Institute, Agency for Science, Technology and Research, Singapore.
Dr. Ferran Feixas, from the University of Girona, Spain, has been awarded a two-year fellowship by the Catalan government for postdoctoral study in our group.
Dr. Arup Kumar Pathak, from Bhabha Atomic Research Centre, Mumbai, has been awarded the prestigious 2012 Indo-US Research Fellowship for advanced study in our group. This is one of only 30 such awards made by the Indo-US Science & Technology Forum.

January 2012

Former grad student Nathan Baker has been elected a Fellow of the American Association for the Advancement of Science. Nathan is Chief Scientist at the Pacific Northwest National Laboratory.
PSC's article on our group's work on Chagas disease is available.
DSC's article on kinesin movement along microtubules is available.

October 2011

Congratulations to Mikolai Fajer, who completed his Ph.D. in physical chemistry! Mikolai will pursue postdoctoral studies with Benoit Roux at the University of Chicago.
Double congratulations to former postdoc Rommie Amaro!! Rommie has accepted a faculty position at UCSD in Chemistry and Biochemistry. She has also been selected for the Presidential Early Career Award for Scientists and Engineers, the highest honor bestowed by the United States government on science and engineering professionals in the early stages of their independent research careers. More information can be found at http://www.whitehouse.gov/the-press-office/2011/09/26/president-obama-honors-outstanding-early-career-scientists.
Former undergraduate researcher Peter Sims has accepted an Assistant Professorship at Columbia University in the Department of Biochemistry and Molecular Biophysics and the new Department of Systems Biology. After completing his undergraduate work (and three journal publications!) at UCSD in 2004, Peter was an NSF predoctoral fellow in chemistry at Harvard, where he did his PhD and postdoctoral work with Sunney Xie.

August 2011

A warm welcome to Professor Peter Tieleman (University of Calgary)! Peter joined the group this month to start a six-month sabbatical visit.

July 2011

Congratulations to our group members who have advanced in many ways in recent weeks!
Postdocs Ric Baron, Barry Grant, and Zhongming Wang have all accepted tenure-track faculty positions. Ric is joining the Department of Medicinal Chemistry, University of Utah. Barry is joining the new Department of Computational Medicine and Bioinformatics at the University of Michigan. Zhongming is joining the Department of Mathematics, Florida International University.
Morgan Lawrenz, completed her Ph.D. in chemistry. Morgan will pursue postdoctoral studies with Vijay Pande at Stanford.
Patricia Bauler and Levi Pierce passed their candidacy exams for the Ph.D. degree in chemistry.
Patrick Blachly has been selected as a funded trainee of the NIH Molecular Biophysics Training Grant at UCSD. Patrick has also been awarded a prestigious scholarship from the Achievement Rewards for College Scientists (ARCS).
Aaron Friedman and Kate Rogers have been selected as funded trainees of the NIH Pharmacological Sciences Training Grant.
Vince Metzger has been selected as a funded trainee of the HHMI/NIH Interfaces Graduate Training Program, for studies at the interface of the physical and biomedical sciences.
Former postdoc Heather Carlson is being promoted to Full Professor of Chemistry and Medicinal Chemistry at the University of Michigan, Ann Arbor, effective September 1.

May 2011

Andy McCammon was elected to the US National Academy of Sciences in May, 2011.
Nathan Baker, who completed his PhD in the group, has just been selected as Editor-in-Chief of the journal "Computational Science & Discovery," published by the Institute of Physics in Great Britain. Nathan is
Chief Scientist at the Pacific Northwest National Laboratory.
Congratulations on new faculty positions! Riccardo Baron has accepted an Assistant Professorship at the University of Utah. Zhongming Wang has been offered a faculty position at Florida International University.
Congratulations to Mehrnoosh Arrar, who has been awarded a prestigious NSF Graduate Research Fellowship! Former undergrad Daniel Dadon, now a graduate student at MIT, also received an NSF Graduate Research Fellowship.

March 2011

Congratulations to Barry Grant and Alex Gorfe: Their paper "Conformational selection in G-proteins: Lessons from Ras and Rho" is one of the ten most-cited papers for 2010 in the Biophysical Journal.
Congratulations to second-year graduate students Pat Blachly, Aaron Friedman and Kate Rogers, who all passed their departmental exams with flying colors!
A warm welcome to Steffen Lindert, a new postdoctoral scholar who just arrived from Vanderbilt University.

February 2011

Riccardo's new paper in the journal Structure describes computer simulations of a key enzyme involved in cancer metastasis, and has led to a news release by the San Diego Supercomputer Center and UCSD:

December 2010

Tony Ivetac, a current postdoc in the group, will join the Takeda Pharmaceuticals as a Research Scientist at their San Diego research center this month.
Former graduate student Sylvia Tara has been appointed Director of Biosimilar Strategy in Amgen Inc.
Former postdoc Jung-Hsin Lin has been promoted to Associate Professor, School of Pharmacy, National Taiwan University, and Associate Research Fellow, Academia Sinica.
Tommy Sander, who was a visiting graduate student, is completing his PhD at the University of Copenhagen in January 2011. He then moves to a permanent position at Novo Nordisk in Copenhagen.

November 2010

Gerhard Hummer (NIH) has a very nice News & Views commentary in the November 2010 issue of Nature Chemistry. This describes the surprising findings published by current postdoc Riccardo Baron and former postdoc Piotr Setny concerning the role of the solvent water molecules in ligand-receptor recognition. The Baron and Setny papers appeared in recent issues of the Journal of the American Chemical Society and the Journal of Chemical Theory and Computation.
Congratulations to Bill Sinko, a current graduate student in our Biomedical Sciences Program, on being awarded a highly competitive fellowship from ARCS (Achievement Rewards for College Scientists).
Congratulations to former postdoc Frank Brown, who was recently promoted to Full Professor of Chemistry at the University of California at Santa Barbara.
Congratulations to former graduate student Roberto Lins, who was recently appointed as Professor of Chemistry, Universidade Federal de Pernambuco, Brazil.

October 2010

Hearty congratulations to Rommie Amaro on winning the 2010 NIH Director's New Innovator Award! NIH Director Dr. Francis S. Collins announced the Award on September 30, 2010. Rommie is a new Assistant Professor of Computer Science and Pharmaceutical Sciences at UC Irvine; previously, she was a postdoctoral fellow in our group during 2005-2009. The Award provides five years of funding for Rommie's group.
Andy McCammon has been appointed to the International Advisory Board of the new Programme for Research and Training in Computational Science at the Life Sciences Interface, Oxford University and University College London.
Former graduate student Brock Luty has accepted a Senior Scientist position at a new company with headquarters and research labs in San Diego: Dart Neuroscience.
Hearty congratulations to Rommie Amaro on winning the 2010 NIH Director's New Innovator Award! NIH Director Dr. Francis S. Collins announced the Award on September 30, 2010. Rommie is a new Assistant Professor of Computer Science and Pharmaceutical Sciences at UC Irvine; previously, she was a postdoctoral fellow in our group during 2005-2009. The Award provides five years of funding for Rommie's group.
Andy McCammon has been appointed to the International Advisory Board of the new Programme for Research and Training in Computational Science at the Life Sciences Interface, Oxford University and University College London.
Former graduate student Brock Luty has accepted a Senior Scientist position at a new company with headquarters and research labs in San Diego: Dart Neuroscience.

September 2010

Former postdoc Stephen Bond has been appointed Senior Member of Technical Staff in the Applied Mathematics and Applications Group of Sandia National Laboratories in Albuquerque.
Recent graduate student Jacob Durrant has received the Roland K. Robins Pharmacology Dissertation Award for his PhD thesis, which he successfully defended in June. The award was endowed by Dr. Robins, a distinguished chemist and inventor of the antiviral drug ribavirin. Jacob is continuing as a postdoc in the group for a year before returning to finish the clinical courses for his MD degree.
Tushar Jain, a former postdoc, has joined Adimab, Inc., as a senior scientist in protein design. Adimab, based in New Hampshire, specializes in the development of therapeutic antibodies: http://www.adimab.com/.
Wibke Sudholt, a former postdoc, is a founder and Chair of the Management of CloudBroker GmbH, a Swiss Company that facilitates access to cloud computing for computational chemistry and other applications: http:www.cloudbroker.com/.

August 2010

Joe Dzubiella, our former postdoc who has held an Emmy Noether fellowship as junior group leader in Physics at the Technical University in Munich, has now been awarded a permanent position as a theory group leader at the Helmholtz Center Berlin (a national lab) in combination with a professorship at the Physics Department of the Humboldt University Berlin. Joe's new appointments begin in August 2010.
Chung Wong, a former postdoc in the group, has been awarded tenure as Associate Professor of Chemistry at University of Missouri - St. Louis.
Sanjib Senapati, a former postdoc in the group, has been promoted to Associate Professor at the Indian Institute of Technology, Madras.
Dong Xu, an NBCR/UCSD/SDSC postdoc who has worked closely with our group, will join Boise State University in Idaho as an Assistant Professor of Chemistry in August 2010.
Sarah Williams, a current postdoc in the group, will join the Novartis Institutes for BioMedical Research as a Research Scientist at their Cambridge, Massachusetts headquarters in October 2010.
Ben Wilson, an undergrad research visitor from University of Arizona, will start Ph.D. studies at Stanford University. Ben co-authored a paper on computer-aided drug discovery (PLoS Negl.Trop. Diseases, 2010) based on his work here.
Ralph Wheeler, a former postdoc in our group, has been appointed Professor and Chair of the Department of Chemistry and Biochemistry at Duquesne University. Ralph previously held the Presidential Chair of Chemistry at the University of Oklahoma.

July 2010

Riccardo Baron, a current postdoc in our group, has won the prestigious prize "Alfredo di Braccio 2010" for the top young Italian chemist. The prize was awarded at a ceremony in Rome on June 24, 2010, by the President of the Italian Republic. The prize is sponsored by the Accademia Nazionale dei Lincei, the Italian academy of science, founded in 1603.
Jeremy Kua, a former postdoc in our group, has been awarded tenure and promotion to Associate Professor of Chemistry at the University of San Diego.Federico Fogolari, a former postdoc in our group, has been awarded tenure and promotion to Full Professor at the University of Udine in Italy.Kaihsu Tai, who was a postdoc in Oxford following his PhD studies in our group, has moved to a permanent position in Helsinki as Junior Scientific Officer at the European Chemical Agency.
Ivaylo Ivanov, a former postdoc in our group and current Assistant Professor of Chemistry at Georgia State University, has published remarkable computer simulations of DNA transcription and repair machinery that are the subject of a news story by the US Department of Energy: http://www.nccs.gov/2010/06/14/olcf-snapshot-june-14-2010/.

May 2010

Congratulations to Jennifer Bui, who has received the NIH Mentored Research Scientist Development Award for transitioning to an independent faculty position. Jen completed her PhD in chemistry in our group, and then held an NSF postdoctoral fellowship at Cambridge University before moving to her current senior postdoc position in David Baker's group at the University of Washington, Seattle.
Congratulations to Riccardo Baron, who has won the American Chemical Society Division of Physical Chemistry Postdoctoral Research Award. Ric will give his award lecture at the ACS national meeting in Boston in August.

April 2010

Congratulations to Jeff Wereszczynski, who has been awarded an NIH postdoctoral fellowship for his research in our group.
Congratulations to former postdoc Rommie Amaro, who has received a prestigious Career Transition Award from NIH. These special awards fund promising new faculty members at the start of their independent careers. Rommie is Assistant Professor of Pharmaceutical Science and of Computer Science at UC Irvine.
Congratulations to former postdoc Rebecca Wade, who has been appointed to the faculty of the University of Heidelberg. Rebecca continues as Group Leader at the Heidelberg Institute for Theoretical Studies.
Daniel Dadon, who conducted undergraduate research in our group, will move on to MIT for his PhD studies this fall.
Former postdoc Nathan Baker, currently Associate Professor at Washington University at St. Louis, will become Chief Scientist and director of a new, multidivisional Signature Science computing initiative at Pacific Northwest National Lab. This is a major new program focusing on high priority initiatives for the Department of Energy as well as several other government agencies.

January 2010

Juan Manuel Ortiz Sánchez has been awarded a Fulbright grant for postdoctoral study in our group, to start in April 2010. Juan is completing his Ph.D. in Chemical Physics at the Autonomous University of Barcelona. Previous Fulbright Postdoctoral Fellows in our group have included Indira Ghosh (now Dean of the School of Information Technology, Jawaharlal Nehru University, New Delhi, India) and Maciej Baginski (now Associate Professor of Pharmaceutical Technology and Biochemistry, Technical University of Gdansk, Poland).
Daniel Dadon's undergraduate research on new antiviral drugs for influenza has been featured in a news story in MIT's Technology Review. Congratulations to Daniel, and to his mentor, Jacob Durrant – an MD/PhD student in our group.
Andy McCammon has been appointed to the editorial boards of two more journals: Accounts of Chemical Research (2010-2013), and Computational Science and Discovery (Institute of Physics, UK, starting 2009).
A warm welcome to Kennon Kwok, who has joined our group as Programmer/Analyst IV, and who will oversee acquisitions and management of computers and software.
Congratulations to Nan-jie Deng, a former sabbatical visitor in our group, who has been appointed Research Assistant Professor in the Department of Chemistry and the BioMaps institute at Rutgers University, starting January 2010.
Congratulations to former postdoc Donald Hamelberg, who just won an NSF CAREER Award as an Assistant Professor at Georgia State University.
Congratulations to former postdoc Michael Gilson, who has just joined UCSD as Full Professor and inaugural holder of the Chair in Computer-Aided Drug Discovery.

September 2009

Congratulations to Yuhui Cheng, who completed his PhD in Chemistry here in 2007 and continued as a postdoctoral scholar: Yuhui has been appointed to a senior postdoctoral position in the National Biomedical Computation Resource at UCSD.
We Welcome Lars Skjaerven, a graduate student from the University of Bergen, Norway, who will be here for several months.

August 2009

Congratulations to former postdoc Haihong Ni. She recently became Director of Computational Science at Chemizon, Inc., in Beijing after working in computational chemistry for AstraZeneca for several years.

July 2009

Congratulations to former postdocs Chia-en Chang and Donald Hamelberg, who both received Hewlett-Packard Outstanding Junior Faculty Awards! They will present their research in a special session of the American Chemical Society National Meeting in Washington DC in August. Chia-en joined the chemistry faculty at UC Riverside, and Donald joined the chemistry faculty at Georgia State University, both in 2008.
Riccardo Baron's recent PNAS paper on oxygen diffusion in flavoenzymes has been featured in a news account in Nature Chemistry.

June 2009

Congratulations to Joanna Trylska, who has been awarded habilitation and tenure in the faculty of the Interdisciplinary Centre for Mathematical and Computational Modelling, University of Warsaw.

May 2009

Congratulations to former group members on their new faculty positions!
Former graduate student of physics Tongye Shen has accepted a tenure-track Assistant Professorship in the Department of Biochemistry and Cellular and Molecular Biology at the University of Tennessee in Knoxville. Tongye starts at UT in the fall of 2009.
Former postdoc David Sept has accepted a tenured Associate Professorship in the Biomedical Engineering Department of the University of Michigan at Ann Arbor. Dave starts at UM in July 2009.
Former postdoc Martin Zacharias is now Professor of Theoretical Biophysics in the Physics Department of the Technical University of Munich (TUM). Martin moved to TUM in April 2009.
Congratulations to our graduate students who are completing their Ph.D. studies! Arneh Babakhani successfully completed his Ph.D. thesis defense in April. Arneh will enter the US Naval Medical School in August.
Rob Swift successfully completed his Ph.D. thesis defense in May. Rob will pursue postdoctoral studies at the University of California Irvine with Rommie Amaro, starting in July.
Congratulations to Ilja Khavrutskii, who has accepted a Research Scientist position at the Biotechnology High Performance Computing Software Applications Institute in Frederick, Maryland.
Congratulations to Ivaylo Ivanov, who has accepted a tenure-track Assistant Professorship in Chemistry at Georgia State University in Atlanta.
A warm welcome to Dr. Damian Mooney of University College Dublin. Damian will be on a mini-sabbatical in our group during June and July, with a Fellowship from the Science Foundation Ireland.

April 2009

Congratulations to former postdocs on their recent promotions!
Volkhard Helms has been appointed Dean of Studies at Saarland University.
Yingkai Zhang has been awarded tenure and promoted to Associate Professor of Chemistry at New York University.

March 2009

Andy McCammon gives the William E. Palke Lectures in Chemistry at the University of California at Santa Barbara in March. These lectures honor the late, gifted theoretical chemist on the UCSB faculty. More information about Professor Palke can be found here.
A warm welcome to new visitors and group members who arrived this month:Huan-Xiang Zhou, Professor of Physics at Florida State University, who is here during his sabbatical leave. Maciej Dlugosz, Faculty Adjunct at University of Warsaw, here for a two-month research collaboration. Ryosuke Ishizuka, Postdoctoral Fellow in Fumio Hirata's group at Kyoto University, here for postdoctoral collaboration.

February 2009

Congratulations to Adam Van Wynsberghe, who will become Assistant Professor of Chemistry at Hamilton College in New York.
Marco Gallo has moved to El Centro de Investigación en Materiales Avanzados, Mexico, where he is Assistant Professor of Chemical Engineering.

January 2009

Maria Kontoyianni has moved to her new position as Assistant Professor of Pharmaceutical Sciences at Southern Illinois University Edwardsville.

November 2008

Rommie Amaro and collaborators describe progress toward the discovery of drugs to treat African sleeping sickness in the November 11 issue of the Proceedings of the National Academy of Sciences USA. Related news accounts are available from the National Institutes of Health and from the Howard Hughes Medical Institute).
Congratulations to former group members upon their recent promotions:Indira Ghosh is now Dean of the School of Information Technology, Jawaharlal Nehru University, New Delhi. Christoph Sotriffer is now Professor of Pharmaceutical Chemistry at the University of Würzburg, Germany. Shankar Subramaniam is now Chair of the Department of Bioengineering at UCSD.

October 2008

Alemayehu (Alex) Gorfe has accepted an Assistant Professorship in Integrative Biology and Pharmacology at the University of Texas Medical School in Houston.
BenZhou Lu has accepted an Associate Professorhsip in the Institute of Computational Mathematics and Scientific/Engineering Computing, of the Chinese Academy of Science, located in Beijing.
Heather Carlson, now an Associate Professor of Chemistry and of Medicinal Chemistry at the University of Michigan, has been awarded the 2008 Corwin Hansch award of the Cheminformatics and QSAR Society.
Another former postdoc, Rebecca Wade, received this award in 2004. More information at http://www.ndsu.nodak.edu/qsar_soc/
Donald Hamelberg, now an Assistant Professor of Chemistry at Georgia State University, has been awarded the Distinguished Cancer Scholar grant by the Georgia Cancer Coalition. More information at http://www.georgiacancer.org/res-distawardees2009.php.
Richard Law is returning to the Oxford area to be head of computational chemistry at Evotech, a world-leading drug discovery company specializing in central nervous system (CNS) research.
Andy McCammon gave the Oscar K. Rice Lectures in Chemistry at the University of North Carolina, Chapel Hill, in October. This prestigious lecture series honors one of the greatest theoretical chemists of the Twentieth Century. A nice biographical sketch of Rice's work by Professor Ben Widom can be found in the Journal of Statistical Physics, vol 21, pp 341-344 (1979).

August 2008

Alexei Podtelezhnikov has been appointed Senior Research Scientist in Informatics at Merck & Co., West Point, PA.

July 2008

Rommie Amaro has accepted an Assistant Professorship in Pharmaceutical Sciences at the University of California at Irvine, to begin in 2009.
Andy McCammon has been appointed editor of Quarterly Reviews in Biophysics, published by Cambridge University Press.

June 2008

Three more postdocs have accepted new faculty positions - congratulations! Donald Hamelberg will be Assistant Professor of Chemistry at Georgia State University in Atlanta. Zeyun Yu will be Assistant Professor of Computer Science at the University of Wisconsin, Milwaukee. Yongcheng Zhou will be Assistant Professor of Mathematics at Colorado State University.

April 2008

Congratulations to Mikolai Fajer, who has been awarded a prestigious NSF predoctoral fellowship.
Congratulations to former postdoc, Sanjib Senapati, who has been awarded a BOYSCAST Fellowship by the Government of India for a sabbatical in our group this summer. Sanjib is currently Assistant Professor at the IIT-Madras.

March 2008

Congratulations to graduate student Paul Gasper, who has won the 2008-9 Kamen/Kaplan Fellowship from UCSD. This fellowship is provided by the Agouron Institute to honor two of the early members of the UCSD Department of Chemistry and Biochemistry: Martin Kamen and Nathan Kaplan. Kamen was co-discoverer of the isotope carbon-14, and Kaplan was a pioneering enzymologist and cancer researcher.
Congratulations to Adam Van Wynsberghe, who has been awarded an NIH Postdoctoral Fellowship.
Congratulations to former postdoc Shankar Submaraniam, upon winning the 2008 UCSD Chancellor's Associates Faculty Excellence Award for Research in Science and Engineering. Shankar is Professor of Bioengineering at UCSD.
A warm welcome to Jingfang Huang, Associate Professor of Mathematics, University of North Carolina at Chapel Hill. Jingfang has joined our group during his sabbatical leave.

February 2008

Congratulations to Xiaolin Cheng, who is moving on to become Assistant Professor of Biochemistry at the University of Tennessee and Research Scientist at Oak Ridge National Laboratory.
Congratulations to Stewart Adcock, who has been named Vice President of Software Development for MEDIT, a molecular modeling company based in Europe.
J. Andrew McCammon received the "2008 ACS Award for Computers in Chemical and Pharmaceutical Research." Link to the article in the Feb 11 issue of Chemical & Engineering News

October 12, 2007

FDA approves Isentress (raltegravir), first in a new class of antiviral drugs for HIV/AIDS. Link to the story at the San Francisco Chronicle:
Merck & Co. has a news release at:

September 2007

Congratulations to former postdoctoral fellows Kay Hamacher, appointed as a professor and head of Bioinformatics and Theoretical Biology, Technical University of Darmstadt; and Willy Wriggers, appointed as Research Scientist, D.E. Shaw Research.
Congratulations to former undergraduate researcher Barry Smith, appointed as visiting Assistant Professor of Mathematics, University of California at Irvine.
September 5, 2007: FDA panel unanimously recommends accelerated approval of first in a new class of drugs for HIV/AIDS. The new drug, Merck's Isentress (raltegravir), inhibits the HIV integrase enzyme. A key aspect of the mechanism of this drug was discovered by computer simulations in the McCammon group, as described in the paper by Schames et al. (2004) [see the list of group publications on this site]. A press release from Merck on the new drug can be found at:

June 2007

Congratulations to current and former group members who are moving on to new faculty positions: Chia-En Chang will become Assistant Professor of Chemistry at the University of California at Riverside. Paul de Bakker will become Assistant Professor of Medicine at Harvard Medical School. Cameron Mura will become Assistant Professor of Chemistry at the University of Virginia.
Congratulations to two more graduate students who have completed their Ph.D. studies: Yuhui Cheng successfully defended his thesis work on June 1, and will continue as a postdoctoral fellow at UCSD working in Mike Holst's group (mathematics) as well as in our group. David Minh successfully defended his thesis work on June 4, and will pursue postdoctoral study at the National Institutes of Health.

May 2007

Congratulations to Dave Cerutti, who successfully defended his PhD on May 10. Dave will postdoc with former group member Terry Lybrand at Vanderbilt University.
Congratulations to Frank Brown, who has been awarded a Camille Dreyfus Teacher Scholar, and who is being awarded tenure and promotion in the Department of Chemistry and Biochemistry, University of California at Santa Barbara.

March 2007

Congratulations to former graduate student Regis Pomes, who is being awarded tenure and promotion in Biochemistry at the University of Toronto and in the Research Institute of Toronto's Hospital for Sick Children.
Congratulations to former postdoc Dave Sept, who is being awarded tenure and promotion in Biomedical Engineering at Washington University in St. Louis.

December 2006

Congratulations to Nathan Baker, who received early tenure and promotion to Associate Professor of Biochemistry and Molecular Biophysics, Washington University in St. Louis.
Congratulations to Dimitri Morikis, Professor of Bioengineering, UC Riverside, on his election as Fellow of the American Association for the advancement of Science.
Congratulations to Jack Tanner, who has been promoted to Full Professor of Chemistry, University of Missouri at Columbia.
Congratulations to Jennifer Bui, who has been elected a Fellow of Hughes Hall at Cambridge University.

November 2006

Congratulations to former group member Jens Nielsen, who is being promoted to Sr. Lecturer at the University College, Dublin, Ireland.

September 2006

Congratulations to current and recent group members!
Rommie Amaro was awarded an NIH postdoctoral fellowship to study in the McCammon group at UCSD.
Jennifer Bui was awarded an NSF postdoctoral fellowship to study in the Dobson group at University of Cambridge.
Heather Carlson has been awarded tenure at the University of Michigan.
Adrian Elcock has been awarded tenure at the University of Iowa.
Dimitri Morikis has been promoted to Full Professor at the University of California, Riverside.
Jessica Swanson was awarded an NIH postdoctoral fellowship to study in the Voth group at University of Utah.
Willy Wriggers has been awarded tenure at the University of Texas Health Science Center, Houston.

June 29, 2006

Dave Cerutti has been awarded the Teddy Traylor GraduateFellowship by the UCSD Department of Chemistry and Biochemistry. This fellowship is awarded to highly successful graduate research scientists to assist them in the pursuit of their studies and for travel to scholarly meetings.

March 3, 2006 February 28, 2006 November 1, 2005 July 29, 2005